The 9 Peaks cowherd has been selected for profitable production on the limited feed resources of public lands grazing. A sound bull that already knows how to travel for feed and water will cover more country, cover more cows and last longer, making you more money in the long term.
Sale bulls are sired by industry leading AI sires, such as SAV Final Answer, GDAR Game Day and Sinclair Net Present Value.
Bulls have been gain tested and ultrasound scanned for carcass traits.
Bulls are semen tested and fully guaranteed for their first breeding season, protecting your investment.
We make it easy for our spring-calving bull buyers: free financing with half down on sale day, and free wintering of bulls.
[divider]
Reference Sires
Click the Reg number for EPD and pedigree info. This will open Angus.org in a new window/tab with the animal reg. number then hit "search" to see each profile.
[divider]
Reference Sire F: SAV Bismarck 5682 reg. 15109865
These are our first ever Bismarck bulls for sale. Like most of our sires, he excels by having a lot of traits in the 'just right' category. High in Calving Ease, Ribeye Area, and $W, Bismarck is in our target zone for growth, milk, and mature size.


Reference Sire G: Cole Creek Cedar Ridge 1V reg. 16134394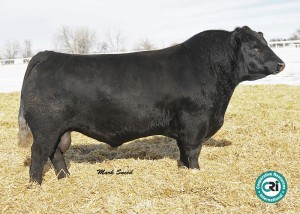 There are a few sons of Cedar Ridge in our fall bull pen. He's a good, proven calving ease bull with the best feet of any bull at Genex. His daughters are easy calving, easy fleshing cows with beautiful udders


Reference Sire H: Sinclair Grass Master reg. 16027094
We used Grass Master to produce bulls to use on mature cows, and whose daughters will be the kind to improve a cowherd. Most popular 'growth ' sires will leave you with oversized cows with oversized appetites- Grass Master provides growth while maintaining the profitability of a low input cowherd.


Reference Sire A: SAV Final Answer 0035 reg. 13592905
Final Answer is an extremely rare individual combining many diverse and antagonistic traits. He lies in the top 10% of the breed for Calving Ease Direct and Birth Weight, the top 15% for Weaning Weight, , and in the top 20% for Yearling Weight and Calving Ease Maternal. These impressive maternal and production traits are combined with a Mature Daughter Height EPD in the lowest 10% of the breed. This combination of traits ranks him as one of the top bulls in the breed for $W index, and in the top 25% for $EN index.


Reference Sire B: GDAR Game Day reg. 14691231
Game Day is one of the top proven sires in the Angus breed for $W index. He creates low input, high output cattle that make some of the most profitable cows you can own. He definitely sires more muscle than any other low birth weight bull we've used. We've now calved dozens of his daughters over several years, and can say that they make easy calving, attentive and trouble free mamas. Game Day is also one of the best udder improvers we have used in a long time.


Reference Sire C: GAR US Premium Beef reg. 14301014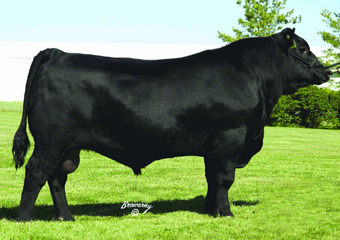 Premium Beef is one of those bulls that the AI studs don't find "sexy"…he's not the highest or most extreme bull in any one area. But the cattle are very profitable, with great carcass traits (Marbling, Ribeye Area and $Beef all rank in the top 20% of the breed). Direct Calving ease is good, and Maternal Calving Ease is even better. Premium Beef daughters usually come back from the desert fat, pregnant, and with a healthy calf at side. These are the kind of cows that make money for commercial cattlemen.


Reference Sire D: Connealy Thunder reg. 15148659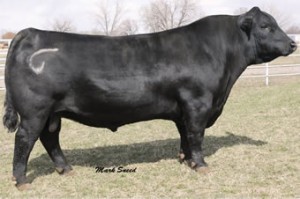 Thunder is an outcross calving ease sire that excels in the often overlooked trait of hoof shape. He is known for siring moderate mature size, sound, and mild-tempered cattle. Thunder ranks in the top 5% of the breed for Docility. We have several 2 and 3 year old daughters that are calving in the forest, they are doing a good job.


Reference Sire E: Sinclair Net Present Value reg. 14311951
We have gone back to using this bull based on how his daughters performed. Back in the fall of 2010, we calved out our first set of two year olds on the Derrick Ranch near Fort Rock. While calving, the heifers grazed dry native rangeland with the mature cows. Many of the first calf heifers sired by some notable AI bulls failed to breed back. The daughters of Net Present Value bred back and remained in the herd. Net Present Value ranks in the top 1% of the breed for $W, and the top 20% for $EN. Net Present Value sires low birth weight, high marbling cattle with gentle dispositions, especially suitable for grass-fed or Certified Angus Beef branded marketing programs.