In 1909, Aaron's great grandfather Francis Sheldon Borror bought a herd of Jersey cows, from which his family made their living. Eldest son Mark Borror graduated from Kansas State University and went home to Fordland, Missouri to his family's Jersey dairy with an innovative idea: if they weighed milk production from each cow and kept good records, they could figure out which cows they should keep and propagate, in order to increase milk production and the income from their dairy.
At the time, the conventional wisdom was that cows should be selected based on the placement of hair whorls on their hindquarters, or whether or not they had white on their tails, in order to produce more milk. When Mark Borror came home from KState, his idea was likely considered ridiculous by many dairymen, and like a lot of work by his family.
But Borror men have never been ones to sit around when they can accomplish something by working hard. Aaron's grandfather, Mark's younger brother Dale Borror quit high school to help out with the dairy herd.
The FS Borror dairy sold their Jerseys and their Missouri farm in 1918. They went west, and bought 80 acres in the San Joaquin Valley of California, as well as a herd of registered Holstein cows. After this move, Dale was able to finish high school, and went on to graduate from Oregon State University in 1928.
Dale Borror came home from college and formed a business partnership with his father Francis and his brother Mark,   F.S. Borror and Sons. Continued recordkeeping and culling resulted in a Holstein herd that had more than twice the average butterfat production for California dairy herds taking records.
The F.S. Borror and Sons partnership moved from the valley to the foothills near Springville, CA in 1929, to a ranch known as the Sequoia Ranch. Holstein cattle with the Sequoia prefix were well known into the early 1950s.
In the 1940's, the F.S. Borror and Sons partnership decided to add beef cattle to their operation. Mark Borror's son Bruce acquired a registered Angus heifer, Salvahome Queen, for his FFA project. Soon after, Dale Borror's nine-year-old son Billy purchased the registered Angus heifer Kern Blackcap 4 for his 4-H project. Six generations and 40 years later, the legendary Tehama Bando 155 was produced from a cow tracing directly from her female line to Bill's original Angus cow, Kern Blackcap 4.
The boys' 4H and FFA projects were supplemented with a small group of registered Angus cows. By 1944, FS Borror and Sons were weighing and reporting calves with the University of California's Record of Performance. Similar programs eventually were replaced by the California Beef Cattle Improvement Association and the Angus Herd Improvement Records program.
These recordkeeping programs allowed the Borrors to accurately improve weaning weights, yearling weights, and milk production in their Angus cowherd. The programs  also identified the consistent producers and the fertile cows with regular calving intervals. The Angus Association developed the Pathfinder Cow designation many years later, to help producers identify superior producing cows, and sires who produced Pathfinder daughters.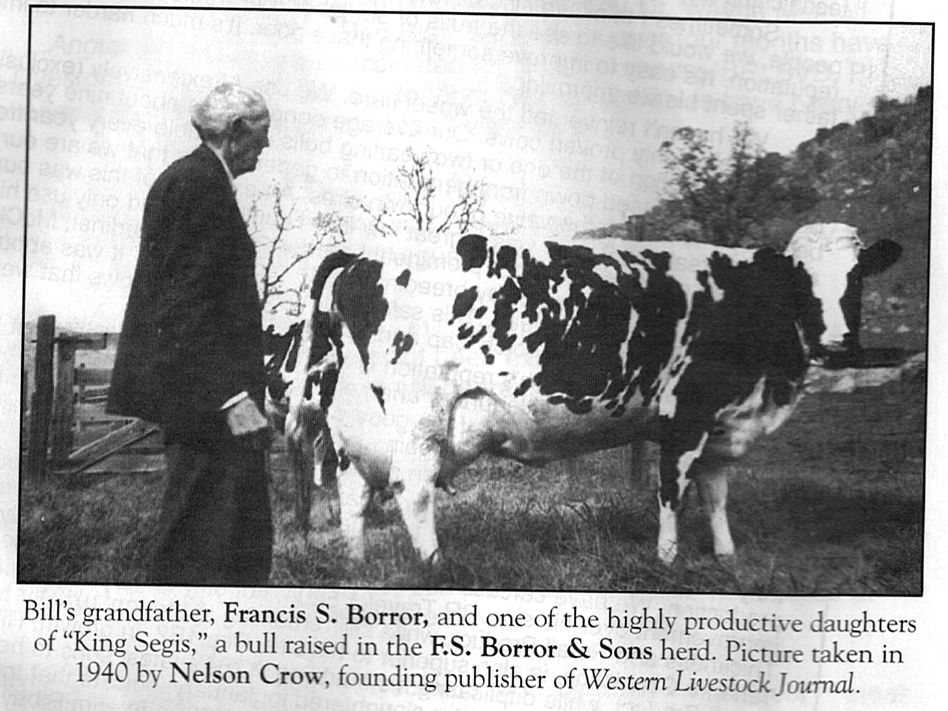 The family partnership split in 1948 when Dale, his wife Inez, and children Billy and Merna moved to Gerber, CA with about 80 commercial and registered cows, to what is now the Tehama Angus Ranch. Billy grew up, completed a tour in the Army, and attended the University of California at Davis. There, he met his future wife Sandy, and upon graduation, they returned to Gerber to form a partnership with Dale and Inez.
During the 1960's, before there was an Angus Herd Improvement Records program, Bill became heavily involved with the California Beef Cattle Improvement Association, in order to make decisions based on data collected about the Tehama cowherd. The CBCIA sponsored the first of the West's Performance Bull Tests, where the 'best' bulls were selected based on their ability to gain weight on feed. Bill served as a leader in the CBCIA program in the 1960s, and for the national Beef Improvement Federation as a director and then as president in 1983. Aaron served as CBCIA president in the 1990s. These state and national Beef Improvement organizations eventually were taken over by the breed associations in the 1980s with the publication of EPD data.
In 1965, Bill started looking at selection for carcass traits. The University of California's extension service developed a carcass evaluation program. Bill enrolled and carcass tested two herd-sire prospect bulls Bardomere HM 127 and Zaras Bard 98 in the UC program,  bulls that came from the Hamilton Meadows program in Chehalis, Washington. Bill divided his cowherd randomly into two groups, and brought each cow to the pre-selected bull in the corrals when she came into heat to be serviced. The resulting calves, 25 from each sire, were fed out at the ranch, slaughtered, and compared for carcass merit. The local University Livestock Extension agent helped with the project.
Bill looked at the data and chose Bardomere HM 127 as the superior carcass sire. The bull was owned in partnership with FS Borror and Sons, as well as Bill's cousin Bruce Borror. The bull was collected and used AI starting in 1967.  Aaron remembers as a boy, that the red and green insemination straws were used to make Christmas decorations.
Carcass testing continued at Tehama Angus Ranch well before the Angus Association developed a structured sire evaluation to create EPD figures for carcass traits.
Aaron also remembers taking his 4H project heifer to the Western National Angus Futurity in Reno, Nevada. He showed his heifer to a championship in the Junior Show, and the next day was last in his class in the Open Show, against many of the same heifers that he had beaten the day before. At that point, Aaron decided that someone else's high (or low) opinion of his heifers in the show ring was not worth pursuing. His show heifer went back to the herd, where the performance of a bull calf A B Band 567 in 1979 earned her legitimate esteem in Aaron's eyes. The paternal brother of Tehama Bando 155 and QAS Traveler 23-4 was retained and used as a herd sire at Tehama.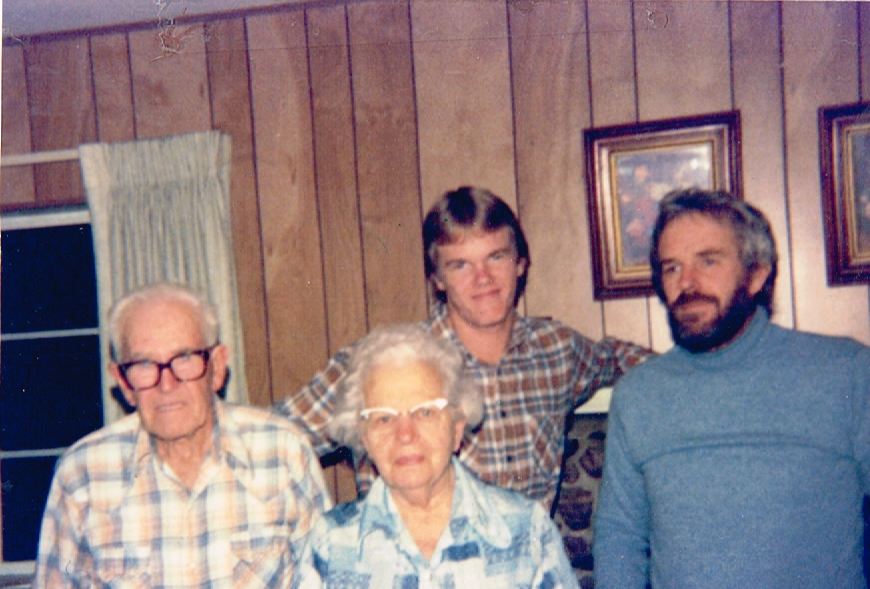 Aaron put himself through college with a custom hay business. His first try at college ended after just a year, but after a few years of real work falling timber in Northern California, he decided he wanted to go back to school. In the late 1980's, after earning a degree from the University of California at Davis in Economics and an MBA from UC Berkeley, Aaron tried living the city life and found it lacking. Seeing an opportunity in his father's successful Angus herd, he went home to Gerber and began making breeding decisions in the spring of 1990.
In the mid 1990's, Aaron and Rebecca found a way to carcass test several young bulls in the Angus Association's new sire carcass evaluation program. Aaron and Rebecca travelled to Willows, CA to the Holzapfel Ranch where their commercial Angus cows had been bred by AI for several years. Commercial cows were randomly chosen with color-coded eartags placed in their ears. Rebecca joined Select Sires AI coordinator Henry Jaeger in breeding more than 300 cows. The following fall, the Holzapfels put colored eartags in the calves' ears to correspond with their dam's tags, which denoted the sire of the calf. The steers were sire-identified, and went to a feedlot in Washington at weaning, where their gain and health data impressed the feedlot owner. Rebecca drove to Pasco in a winter storm in December of 1994, joining AHIR program data collectors who had come from Washington State University at the slaughter plant. Rebecca remembers standing by the blood pit, making sure the eartag data matched the carcasses for accurate data collection.
During the early 1990's, ultrasound technician pioneer Dr. Lorna Pelton, PhD came out to collect data on cattle so that selection for carcass traits could be effective. A few years later, the Angus Association began using ultrasound data along with actual carcass data in the development of carcass EPDs.
As the rest of the Angus breed caught up with the technology to improve calving ease, growth and carcass traits, Aaron and Rebecca saw a trend. Cattle were marketed with more and more emphasis on their 'numbers', with breeders and AI studs going after the highest producing cattle. Purebred Angus butcher cows were regularly reported by the auction yards as weighing 1700 pounds and more. Those purebred cows were growing and milking beyond what typical commercial producers were able to sustain. Aaron and Rebecca began a vision of breeding cattle that were profitable in a commercial situation.
In 1999, Aaron and Rebecca had been in charge of the Tehama herd for more than 10 years. Aaron's brother Kevin had been involved in the Tehama farming enterprise since his high school graduation in 1978. Kevin expanded Tehama farming past hay, corn and silage into a well known and profitable Almond orchard enterprise. Kevin, his wife Linda, and their son Bryce wanted to have more involvement in the cowherd enterprise. So Aaron and Rebecca moved to Oregon in early 2000 with their own 100 cow herd, with a foundation of both females Aaron had since the early 1970s and females acquired through the last 10 years in a joint venture Embryo Transfer program with Tehama Angus.
In 2006, Aaron and Rebecca looked for summer grazing for the cowherd, that would better represent the environmental conditions  of the commercial cowherds of their bull customers.  After two years of renting summer pasture, Aaron and Rebecca found the Derrick Ranch in Fort Rock, OR. The Derrick Ranch